Oscar Wilde's The Importance of Being Earnest
出版日期: 1895 文学时期: Victorian 类型: Farce
The Importance of Being Earnest was described by its author, Irish playwright Oscar Wilde, as 'by a butterfly for butterflies'. It is a story of courtships, betrothals and confused identities in which two young men – Jack Worthing and Algernon Moncrieff – pursue two young women who are both determined to marry someone called Ernest. Set in fashionable London society, the play is characterised by its wit, artifice and highly polished surfaces. First performed on St Valentine's Day in 1895, The Importance of Being Earnest was to be Wilde's last play.
'A Trivial Comedy for Serious People'
In August and September 1894, Wilde took a holiday with his wife, Constance, and two sons, Cyril and Vyvyan, at Worthing, a seaside town on England's West Sussex coastline. There he wrote the majority of the play which would become his masterpiece, The Importance of Being Earnest. The play was subtitled 'A Trivial Comedy for Serious People'; in a letter to his friend Robert Ross, Wilde explained the philosophy of the play: 'we should treat all trivial things very seriously, and all the serious things of life with sincere and studied triviality'.
The play itself inverts the Victorian melodrama that had dominated the London stage of the late 19th century, becoming instead a brilliant comedy of manners and an ingenious farce. Its lasting success rests partly on Wilde's genius as a wit; but its other enduring quality is its examination of moral principles – in this case, the Victorian notion that sincerity, or earnestness, is its own reward. Its themes explore marriage, lineage, duty, deception, love and money.
Wilde's characterisation draws on an established tradition in which characters swap roles and mirror each other. The story hinges on the parallel love lives of seemingly respectable Jack and the dandy figure Algernon, who court Gwendolen Fairfax and Cecily Cardew. Having invented a reprobate 'brother', Ernest, Jack has led a double life in London using his sibling's name. Wilde was satirising and puncturing the hypocrisy and artificiality of Victorian society.
A double life
Wilde was still in contact with his lover Lord Alfred Douglas, with whom he had fallen in love shortly after publishing his novel The Picture of Dorian Gray (1890). Douglas was young, handsome and utterly reckless. Wilde was infatuated. Since they had met, Wilde had been living a double life: winning fame and fortune with hugely successful society comedies, Lady Windermere's Fan (1892) and An Ideal Husband (1895), but secretly spending time in male brothels. 'The danger was half the excitement', he recalled in his great apologia, a long letter to Douglas entitled De Profundis.
Before setting out to Worthing, Wilde had written to Douglas that London was becoming intolerable: he had run out of money, and Douglas's father, the Marquess of Queensbury, was 'out on the rampage', angry at their relationship.
Lady Lancing
Around 25 October 1894, Wilde wrote to the actor and theatre manager George Alexander (1858–1918) explaining that he had been ill with a 'sort of malarial fever', but had finished, and was sending, the first copy of a 'somewhat farcical comedy'; the original draft of which was in four acts:
It is called Lady Lancing on the cover: but the real title is The Importance of Being Earnest. When you read the play, you will see the punning title's meaning.
As Alexander was about to find out, the plot turns partly on misunderstandings related to characters called 'Ernest'. Wilde seems to have been aware he was on to something as early as 13 August, when he wrote to Alfred Douglas 'My play is really very funny: I am quite delighted with it'.
This is despite the strains Wilde was under during the period; as his biographer Richard Ellmann explains, 'Wilde masked his cares with the play's insouciance, by a miracle of control'.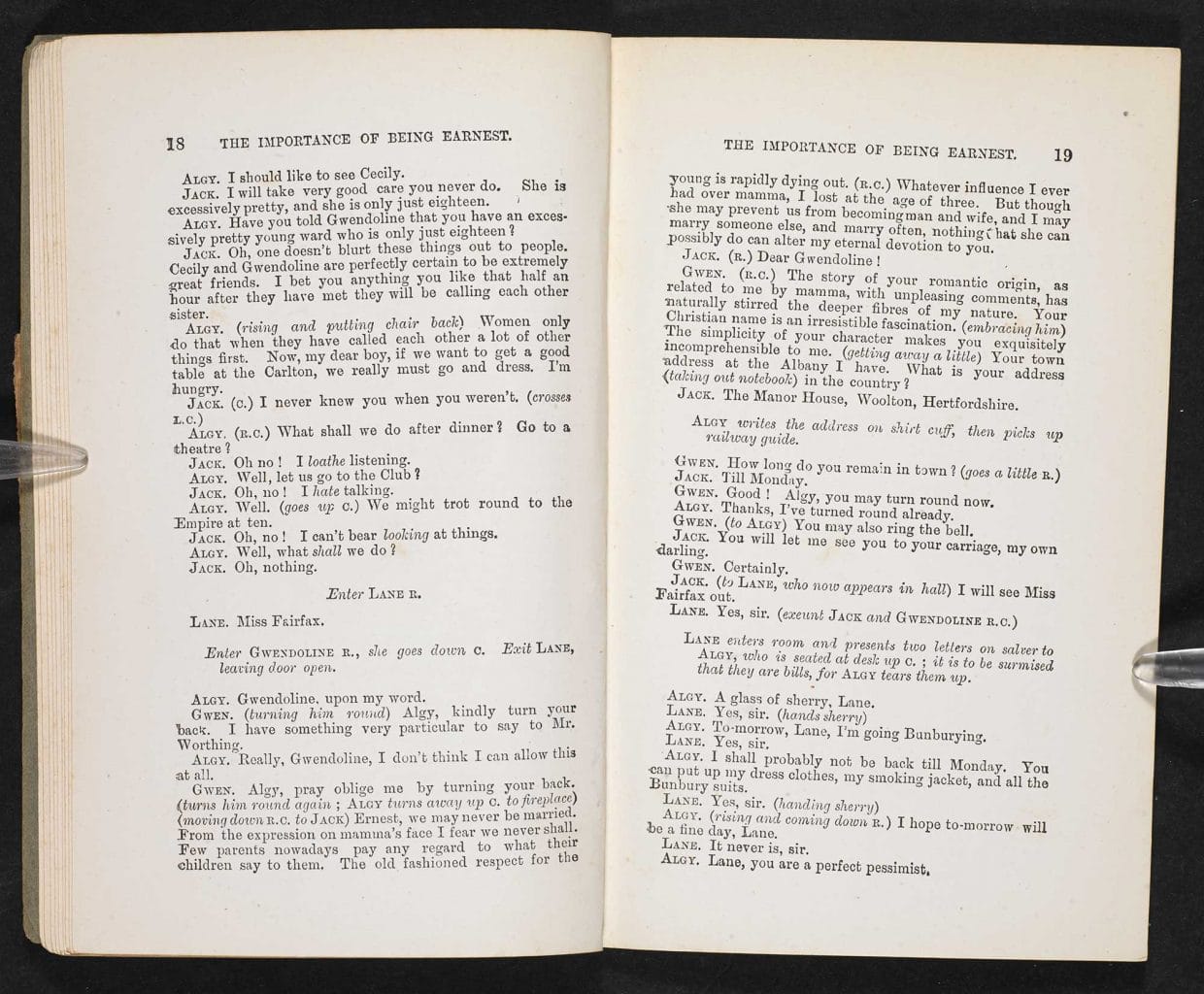 Staging and reception
Earnest was first staged in London, at the St. James's Theatre, on Thursday, February 14th, 1895. As the play's farcical plot is structured around the conventions of society marriages, Valentine's Day must have seemed an appropriate date. It was Wilde's second social comedy playing in London at the time: An Ideal Husband had opened at the Haymarket Theatre on 3 January.
With the exception of the writer George Bernard Shaw (1856–1950), the critics were virtually unanimous in their praise for the play. Shaw complained that it 'lacked reality', but this is exactly what Wilde had intended. The play's run was soon to be interrupted, however.
In February 1895, Douglas's father, the Marquess of Queensberry, publicly accused Wilde of being a homosexual. Wilde sued him for libel, lost and was subsequently found guilty of gross indecency. He spent two years in prison, most of it in Reading Gaol. Wilde's trial and conviction on charges of homosexual behaviour made it increasingly difficult to keep the play going. Alexander initially tried to save the production by simply removing Wilde's name, but eventually had to withdraw it entirely as the scandal mounted. The two men fell out over this. After his release, Wilde remembered that Alexander rode past him on a bicycle at a French seaside resort, and, rather than stopping to talk to him, gave him a 'crooked, sickly smile'. Nevertheless, Alexander would later pay small monthly sums to Wilde, and bequeathed Vyvyan Holland (1886–1967) – Wilde's son – the rights to Wilde's plays as a legacy.
During his time in prison Wilde wrote De Profundis; in the month of his release he composed The Ballad of Reading Gaol. Both were published posthumously. Bankrupt and shunned by society, his health broken by imprisonment, he spent the rest of his life in Europe. He died in Paris on 30 November 1900 aged 46.
In 1909, when matters had calmed down, Alexander revived Earnest, again playing Jack Worthing for 316 performances. During countless subsequent versions, it has come to be regarded as the greatest English stage comedy of all time.