The Interesting Narrative of the Life of Olaudah Equiano
出版日期: 1789 类型: Non-Fiction
The Life of Olaudah Equiano – one of the first books in Europe written by a Black African writer – is an autobiographical work that was first published in 1789. Equiano was encouraged to publish his memoirs by the Abolitionists, who campaigned against the slave trade. The book was an enormous success, selling out immediately.
Who was Olaudah Equiano?
Olaudah Equiano, known to those around him as Gustavus Vassa, was one of the most important Africans living in Great Britain and the British Empire during the 18th century. Much of his early life was spent in slavery, in part aboard Royal Navy warships and in part on the Caribbean island of Montserrat where, by careful trading and saving, he earned enough money to buy his own freedom. He moved to London and, in later life, became an author and campaigned to abolish the British slave trade. His only major work, The Interesting Narrative of the Life of Olaudah Equiano, or Gustavus Vassa, the African, became a best-seller. As well as autobiography, it is also a political treatise, a travel narrative and an account of his conversion to Christianity. It was published at the start of May 1789, just two weeks before the British Parliament debated whether to end the trade in slaves from Africa that Great Britain had been carrying on for more than a century. Although Parliament would in fact not outlaw the slave trade until 1807, Equiano's Interesting Narrative was one of hundreds of publications of the time that helped convince politicians to change the law. Equiano's book was unusual, however, in that it was written by an African who had had first-hand experience of being a slave. It was thus a powerful testimony in one of the most important public debates of the age.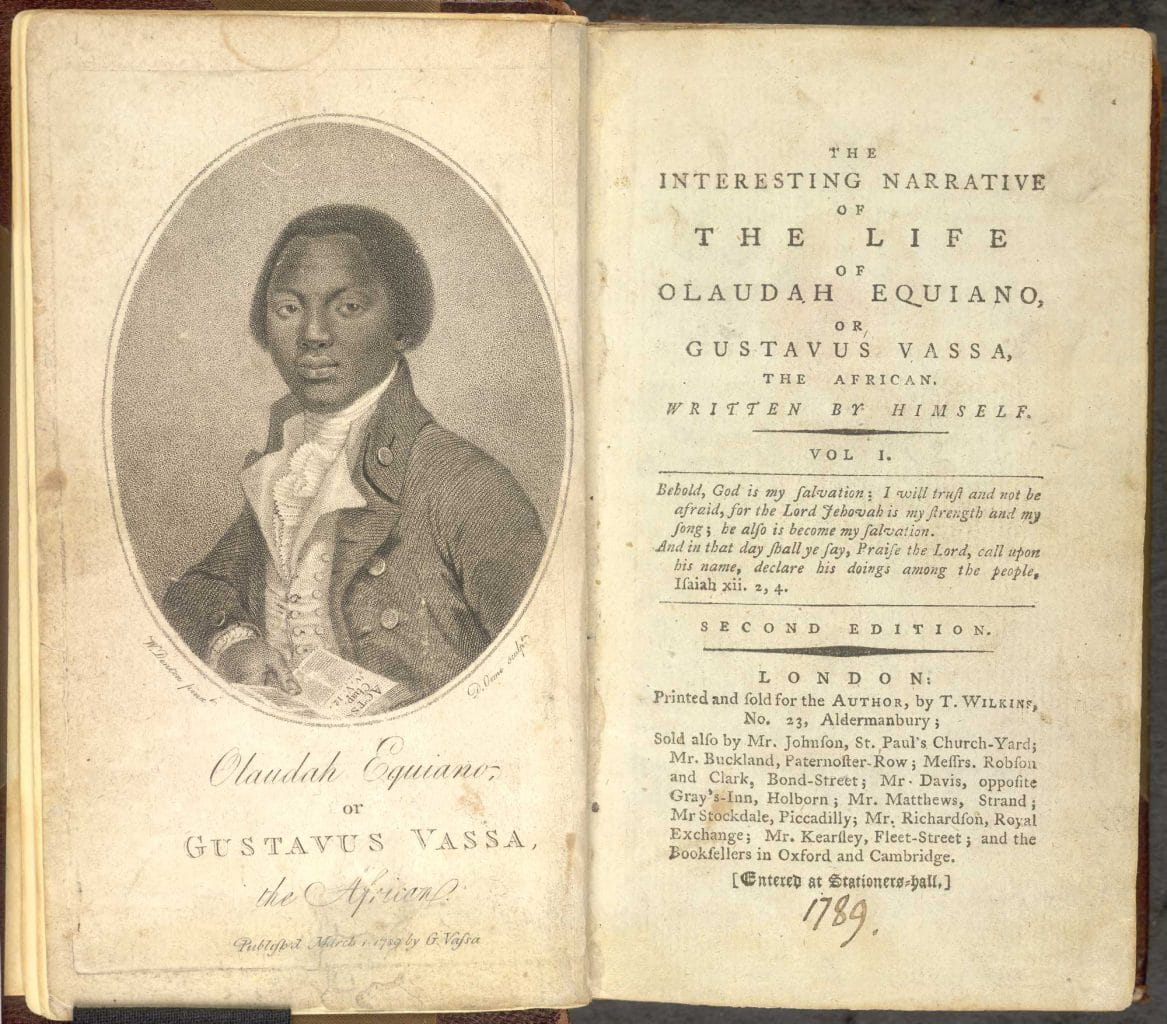 The Interesting Narrative of the Life of Olaudah Equiano
The book begins with Equiano's account of his birth and early life in a village called Essaka in the Benin Empire, today a part of south-west Nigeria, in around the year 1745. He tells of a happy childhood in a fruitful and peaceful country, and gives an extended description of the culture and society of Essaka. This idyllic scene is abruptly ended, however, when he and his sister are kidnapped by African slave traders and taken to the Atlantic coast, a journey of more than a year. Here, he is separated from his sister and put aboard a British slave-trading ship. Equiano describes the crowded and filthy conditions aboard and the brutal treatment of his fellow Africans by the British crewmen. At last, after a long sea journey, including a few weeks on the Caribbean island of Barbados, Equiano arrived in the British North American colony of Virginia. The opening part of the book has two important purposes, therefore. He first wants to show Britons that Africa is a peaceful and civilised region and not, as many in Great Britain believed, a land of warlike savages. He also wants to shine a light on to the brutality of the slave trade at a time when it was being debated by Parliament. His account may be problematic, however. Recent evidence suggests that he may not have been born in Africa, as he tells us in The Interesting Narrative, but that he may instead have been born into slavery in the British North American colony of South Carolina.
An unsolved mystery
Historians are divided over which account of Equiano's early life to believe, and it may be that the mystery is never solved. We are certain, however, that at about the age of ten, Equiano was sold as a slave to a Royal Navy captain called Michael Pascal. Equiano would spend the next nine years with Pascal, travelling throughout the Atlantic and Mediterranean and seeing action in several battles of the Seven Years' War that convul​​sed Europe between 1754 and 1763 and which spread around the globe. In between the fighting, Equiano learned reading, writing and arithmetic, as well as the skills of an able seaman. He was also baptised into the Church of England and, although he did not yet consider himself fully converted to Christianity, he seems to have believed that he had become a free man. He was astonished, therefore, when Pascal suddenly sold him to an Irish merchant who took him back to the Caribbean. On Montserrat he was sold again, to a Pennsylvanian Quaker and trader called Robert King. King employed Equiano aboard his ships and, by careful trading of small items such as fruit and glassware but also rum and sugar, Equiano was able to save up the price of his own freedom, which King reluctantly granted him in 1766.
Freedom
As a free man, Equiano initially pursued a career at sea, working ships between Britain's colonies in the Caribbean and North America. He repeatedly found himself attacked, defrauded and threatened with re-enslavement, however, and decided to move to London. Although it was at the centre of a large slave-trading empire, Equiano's rights as a free man were most strongly protected in Great Britain. From his base in London, Equiano spent two decades making voyages to the Mediterranean and occasionally across the Atlantic; he even joined an expedition to the Arctic that hoped to find a north-east passage from Europe to China. In the late 1780s, and following his conversion to Christianity, he joined the campaign against the slave trade that was at that time growing in strength. He wrote letters to newspapers, petitioned the Queen and finally published his autobiography, the Interesting Narrative, in 1789. This became a best-seller. Equiano toured Great Britain and Ireland promoting the book as well as the campaign against slavery and the slave trade, and he became a well-known public figure. He died in 1797 as a respected and wealthy man, although he did not live to see the end of the slave trade, which was made illegal ten years after his death.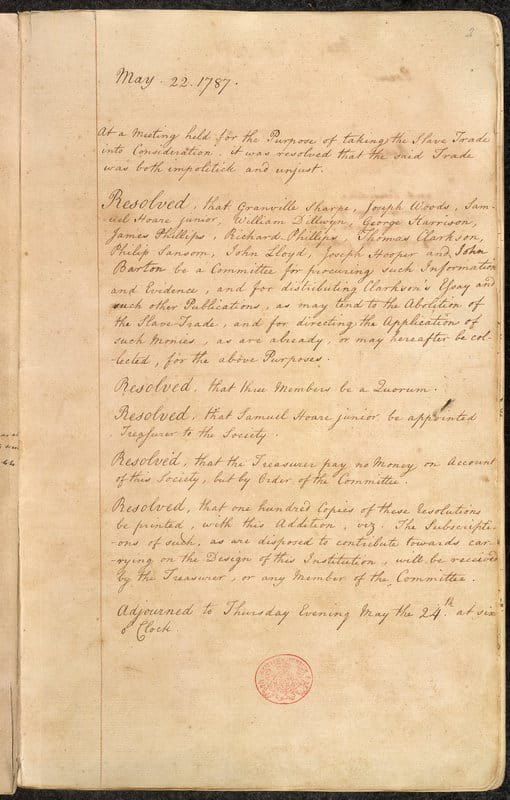 Although he was well known in his day, Equiano was gradually forgotten, particularly after slavery was abolished throughout Europe and America in the middle of the 19th century. The Interesting Narrative was reprinted in the 1960s, and since then has become recognised as one of the most important contributions to literature in English from the 18th century. It has now been translated into several languages, and is today read across the world by scholars, students and anyone interested in the Atlantic world in the age of slavery.
Contributor: Brycchan Carey
Brycchan Carey is a professor of English at Kingston University where he works on the literature and culture of the antislavery movement throughout the Atlantic world. His most recent book is From Peace to Freedom: Quaker Rhetoric and the Birth of American Antislavery, 1657–1761. He is currently working on the relationship between antislavery and new natural histories in the eighteenth century. He provides a large body of information and resources for studying slavery and abolition on his website. He has recently published 'Olaudah Equiano, The Interesting Narrative (1789) edited with an introduction by Brycchan Carey' (Oxford: Oxford University Press, 2017).