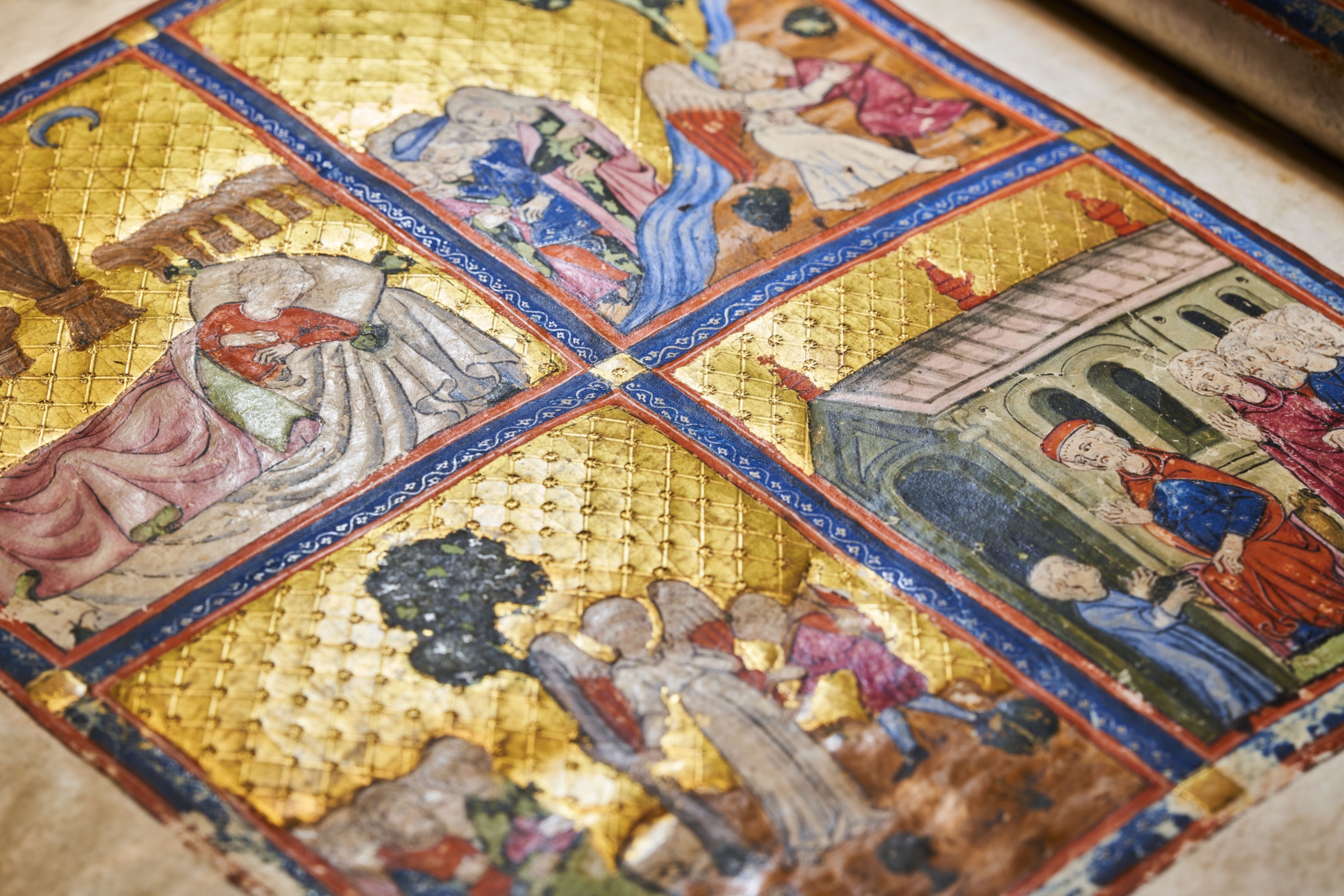 New exhibition brings together fifty of the most dazzling and luxurious golden objects, some of which are on public display for the very first time.
Showcasing books, scrolls and documents from twenty countries, Gold reveals how this precious metal has captured the imagination of scribes, artists and binders throughout history and across cultures and faiths.
From sacred texts contained within tiny golden books and spectacular illuminated manuscripts to a treaty inscribed on a strip of gold over two metres long, the exhibition highlights the deep-rooted connection between gold, the sacred and the royal, and reverence, awe and power.
Gold also sheds light on the masterful and painstaking techniques used to transform this precious metal into such fine objects.
The exhibition is supported by BullionVault.
Objects on display include:
Buddhist chants inscribed on two strips of gold from Myanmar (Burma). Dating from the 5th-6th centuries, they are some of the oldest items in the exhibition
A treaty in Malayalam from southern India, inscribed on a strip of gold over two metres long in 1691
An extremely rare gold seal from the Latin emperor of Constantinople – (gold being used in place of the more common wax or lead)
A 13th-century Qur'an cover with the earliest known example of gold tooling (where gold leaf is impressed onto leather)
A rare copy of the Lotus Sutra – one of the most popular and influential texts of Mahayana Buddhism – contained in a highly decorated scroll with gold and silver ink
The Harley Golden Gospels – written entirely in gold ink in the 9th century with individual elaborated gold borders on every page
A tiny octagonal Qur'an from Persia, bound with delicately engraved covers of pure gold and stored in a case of white jade decorated with floral patterns
A tiny "girdle book" adorned with covers of gold tracery from the Tudor court of King Henry VIII
A Japanese silk scroll containing detailed drawings of miners working on the island of Sado, from the early nineteenth century
The Queen Mary Psalter, one of the most extensively illustrated biblical manuscripts ever produced
The Library will host a special season of events inspired by the exhibition, including an evening of spun gold storytelling in the Library's Piazza and talks by speakers including Professor Peter Frankopan, author of The Silk Roads, master calligrapher and illuminator Patricia Lovett, and Professor Lucy Freeman Sandler, an international expert in illuminated manuscripts.
Eleanor Jackson, Curator of Illuminated Manuscripts and a co-curator for Gold, said: "For centuries, gold has been fundamental to makers across the world for embellishing the written word. Reflecting the international appeal of gold, this exhibition takes visitors on a journey of over twenty countries via some of the most precious and intricately crafted items in our collection. Many of these objects were originally owned by royalty, and they would have been seen by only a select few. We are so pleased to be able to bring them together on public display for everyone to enjoy."
Robert Glynne, CEO of BullionVault, said: "BullionVault is delighted to be supporting Gold and the wonderful series of events around it. The exhibition shows how gold's deep monetary value comes from the beauty, power and meaning which humanity across all cultures and all ages has ascribed to the precious metal. Just as BullionVault opens up physical gold ownership to investors of any size, so Gold enables a wider audience to share the awe and wonder which these rare and stunning manuscripts inspire."
The exhibition is also supported by the Goldhammer Foundation and the American Trust for the British Library, with thanks to The Finnis Scott Foundation and the Owen Family Trust.