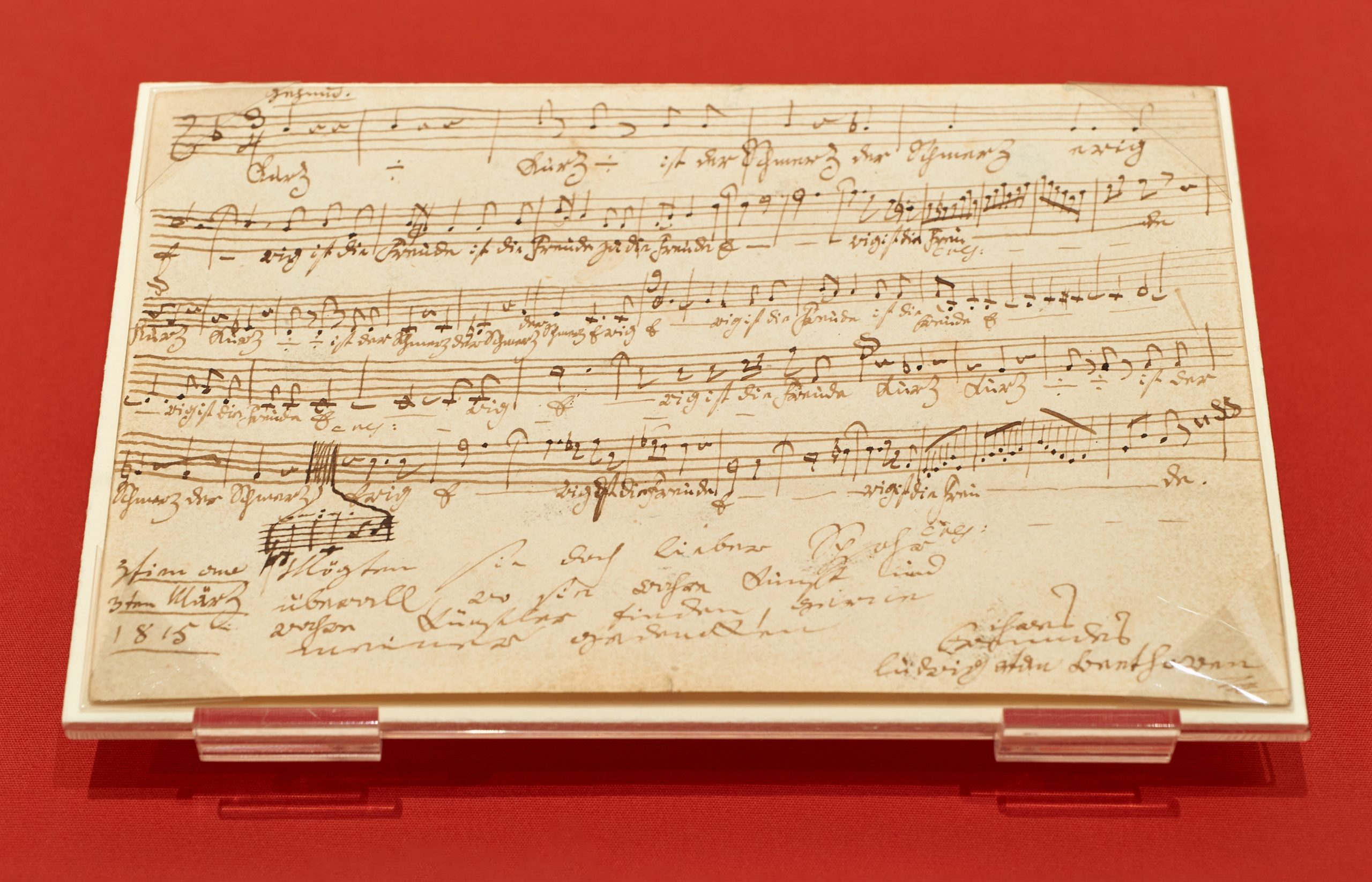 Beethoven's Ninth Symphony manuscript goes on display in the UK for the first time as new exhibition opens at the British Library.
New exhibition at the British Library explores the creative imagination, legacy and enduring influence of one of the greatest and most influential composers of all time, Ludwig van Beethoven (1770-1827).
From Beethoven's earliest published works of three piano sonatas composed at age 11 or 12 to the Ninth Symphony, considered his crowning achievement, the exhibition draws on the Library's extensive collections of music to explore his life and legacy through the lens of his manuscripts. Manuscripts scrawled in Beethoven's own hand, personal belongings, archival documents and sound recordings provide an insight into the mind of the creative genius at work.
Highlights include:
Beethoven's autograph score of the Ninth Symphony, which has never been exhibited in the UK before, on loan from the Staatsbibliothek zu Berlin – Preußischer Kulturbesitz (Berlin State Library – Prussian Cultural Heritage Foundation) and reunited with the manuscript copy he sent to the Philharmonic Society in London in 1824, which resides at the British Library
Handwritten kitchen accounts giving a personal insight into Beethoven's diet, living standards and household management, on display for the first time
The earliest known draft of a symphonic movement by Beethoven, Sinfonia in C minor, which has been realised for string quartet by Annette Isserlis, founder-member of the Orchestra of the Age of Enlightenment
A tuning fork, which Beethoven presented to British violinist George Bridgetower in 1803
A pocket sketchbook made by Beethoven to note down musical ideas when out walking, which dates from 1825 and contains sketches for the String Quartet in B flat major, Op. 130
A 'conversation book' from 1824 that Beethoven carried with him so that his companions could write down their contribution to the dialogue, on loan from the Staatsbibliothek zu Berlin – Preußischer Kulturbesitz (Berlin State Library – Prussian Cultural Heritage Foundation)
Challenging convention and physical limitations, Beethoven defied the onset of deafness from the age of 28 to produce an output that encompasses 722 works, and the exhibition features a bespoke audiovisual installation, which presents Beethoven's music in the form of vibrations. It uses a technology known as bone conduction to provide a physical, visceral experience of music for both hearing and non-hearing audiences.
Richard Chesser, Head of Music Collections at the British Library, said:
'Beethoven's power to inspire, enthuse and divide opinion remains as strong today as it was 200 years ago. Beethoven's name and image have become ubiquitous in popular culture but this exhibition is an opportunity to explore the man and his music through the lens of his own manuscripts and objects from his daily life. His manuscripts often appear chaotic but they offer powerful testimony to his creative imagination and determined spirit in the face of progressive hearing loss.'
There will be a programme of events inspired by the exhibition starting with a talk by our academic consultant David Wyn Jones on the Eroica Symphony, Cello Sonatas performed by Adrian Brendel and Simon Callaghan, a Q&A session with Evelyn Glennie, a period instruments performance by Boxwood & Brass and a Late at the Library presenting electronic reworks of classics by The Will Gregory Moog Ensemble, featuring Will Gregory of Goldfrapp.
To coincide with the 250th anniversary of Beethoven's birth, last year the Library launched Discovering Music: 19th century, a free online resource that explores key works of 19th-century classical music and the social, political and cultural contexts in which they were written. The Library holds a significant collection of manuscripts in Beethoven's own hand, all of which are now digitised and available online via the Digitised Manuscripts portal. The Library's holdings also extend to extensive collections of early Beethoven editions, secondary literature, and sound recordings.
The exhibition is supported by the Brian Mitchell Charitable Settlement.