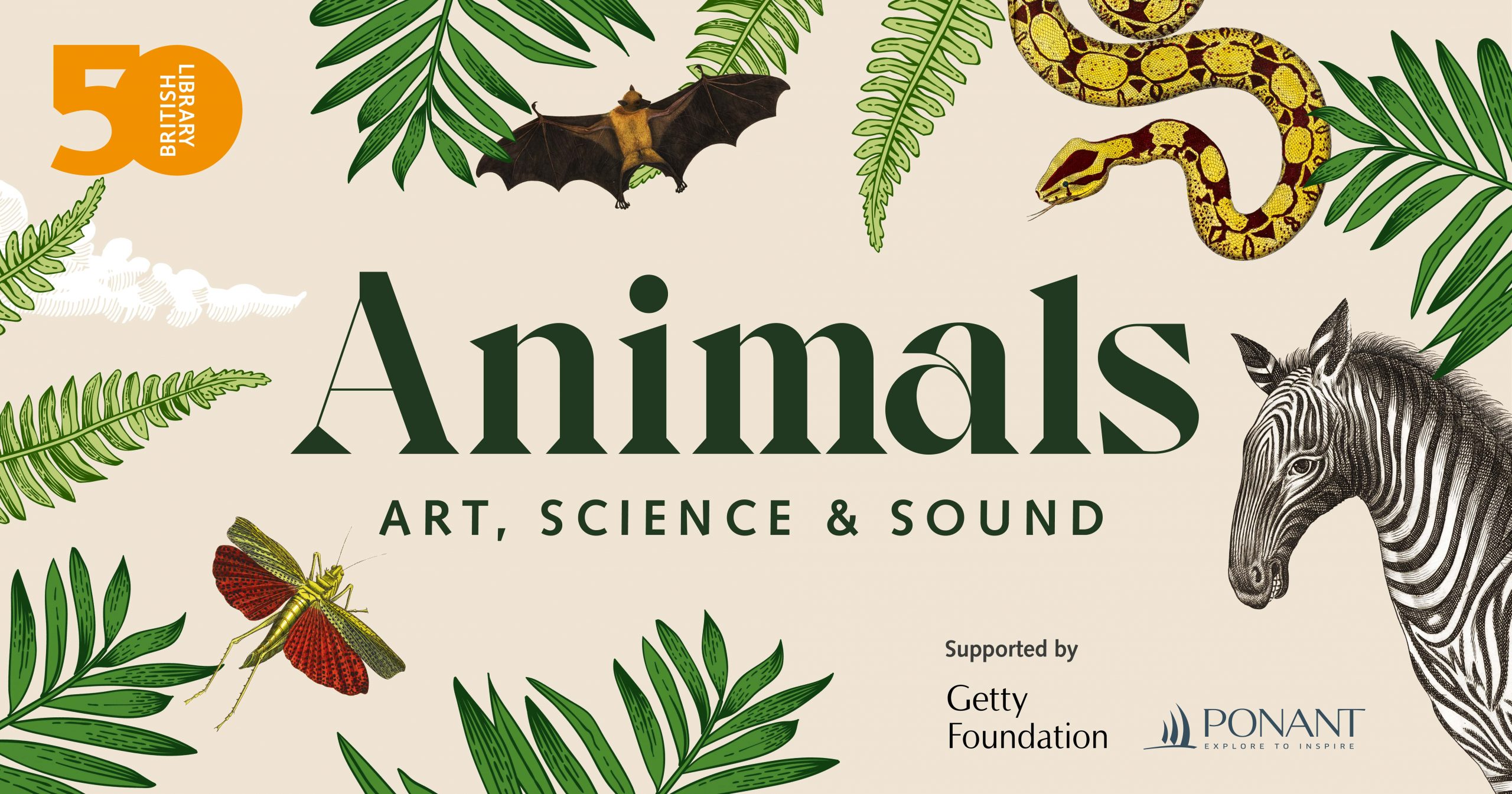 Animals: Art, Science and Sound
New British Library exhibition explores how the intersection of science, art and sound is instrumental to our understanding of the natural world.
Animals: Art, Science and Sound (21 April – 28 August 2023) at the British Library reveals how the intersection of science, art and sound has been instrumental in our understanding of the natural world and continues to evolve today.
Featuring more than 100 artworks, manuscripts, sound recordings and books, many on display for the first time, Animals: Art, Science and Sound explores how animals have been documented across the world over the last 2,000 years
Season of events includes musicians Cosmo Sheldrake and Cerys Matthews, wildlife photographer Hamza Yassin and ornithologist Mya-Rose Craig, also known as Birdgirl, and more
Complemented by two free displays featuring newly acquired material from animal rights activist Kim Stallwood and award-winning photographer Levon Biss
From an ancient Greek papyrus detailing the mating habits of dogs to the earliest photographs of Antarctic animals and a recording of the last Kauaʻi ʻōʻō songbird, this is the first major exhibition to explore the different ways in which animals have been written about, visualised and recorded.
Journeying through darkness, water, land and air, visitors will encounter striking artworks, handwritten manuscripts, sound recordings and printed publications that speak to contemporary debates around discovery, knowledge, conservation, climate change and extinction. Each zone also includes a bespoke, atmospheric soundscape created using recordings from the Library's sound archive.
Featuring over 120 exhibits, highlights include:
Earliest known illustrated Arabic scientific work documenting the characteristics of animals alongside their medical uses (c. 1225) 

Earliest use of the word 'shark' in printed English (1569) on public display for the first time 

One

 

of the earliest works on the microscopic world

, Micrographia

 (1665) by Robert Hooke, alongside three insect portraits by photographer Levon Biss (2021) recently acquired by the British Library, which use a combination of microscopy and photography to magnify specimens collected by Charles Darwin in 1836 and Alfred Russell Wallace circa 1859

Leonardo da Vinci's notes (1500-08) on the impact of wind on a bird in flight, on public display for the first time

One of the rarest ichthyology publications ever produced, 

The Fresh-Water Fishes of Great Britain

 (1828-38), with hand painted illustrations by Sarah Bowdich

First commercially published recording of an animal from

 

1910 titled 

Actual Bird Record Made by a Captive Nightingale (No. I) 

by The Gramophone Company Limited

One of the earliest examples of musical notation being used to represent the songs and calls of birds from 1650 by Athanasius Kircher

One of the earliest portable bat detectors, the Holgate Mk VI, used by amateur naturalist John Hooper during the 1960s-70s to capture some of the first sound recordings of British bats
Cam Sharp Jones, Visual Arts Curator at the British Library, said: 'Animals have fascinated people for as long as human records exist and the desire to study and understand other animals has taken many forms, including textual and artistic works. This exhibition is a great opportunity to showcase some of the earliest textual descriptions of animals ever produced, as well as some of the most beautiful, unique and strange records of animals that are cared for by the British Library.'
Cheryl Tipp, Curator of Wildlife and Environmental Sound at the British Library, said: 'Sound recording has allowed us to uncover aspects of animal lives that just would not have been possible using textual or visual methods alone. It has been used to reclassify species, locate previously unknown populations and allowed us to eavesdrop on worlds that would otherwise be inaudible to our ears. It is such an emotive medium and I hope visitors will be inspired to explore the Library's collections, as well as tune in to the sounds of the natural world in their everyday lives.'
There is a season of in-person and online events inspired by the exhibition, such as a Late at the Library with musician, composer and producer Cosmo Sheldrake hosted by musician, author and broadcaster Cerys Matthews and Animal Magic: A Night of Wild Enchantment where five speakers, including wildlife cameraman, ornithologist and Strictly Come Dancing winner Hamza Yassin and birder, environmentalist and diversity activist, Mya-Rose Craig, each have 15 minutes to tell a story. There is a family event on Earth Day 22 April where Art Fund's The Wild Escape epic-scale digital landscape featuring children's images of animals will be unveiled. A selection of these works are included in an outdoor exhibition around Kings Cross.
A richly illustrated publication by the British Library with interactive QR technology allowing readers to listen to sound recordings and a free trail for families and groups also accompanies the exhibition.
The exhibition is made possible with support from Getty through The Paper Project initiative and PONANT. With thanks to The American Trust for the British Library and The B.H. Breslauer Fund of the American Trust for the British Library. Audio soundscapes created by Greg Green with support from the Unlocking our Sound Heritage project, made possible by the National Lottery Heritage Fund. Scientific advice provided by ZSL (the Zoological Society of London). 
Animals: Art, Science and Sound is complemented by two free displays at the British Library. Animal Rights: From the Margins to the Mainstream (7 May – 9 July 2023) in the Treasures Gallery draws on published, handwritten and ephemeral works from the Library's collection relating to animal welfare. It features newly acquired material collected by animal rights activist Kim Stallwood who will be in conversation at the Library about the history of animal welfare legislation. Microsculpture (12 May – 20 November 2023) showcases nine portraits by photographer Levon Biss that capture the microscopic form and evolutionary adaptions of insects in striking large-format, high-resolution detail.
Animals: Art, Science and Sound draws on the British Library's role as home to the UK's national sound archive, one of the largest collections of sound recordings in the world. With over 6.5 million items of speech, music and wildlife, this includes audio from the advent of recording to the present day, and over 70,000 recordings are freely available online at sounds.bl.uk and in the British Library's Sound Gallery in St Pancras.